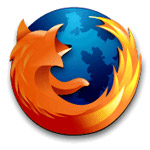 The new upcoming release of Firefox 3.1, before that take a sneak peak of what's new in Firefox 3.1 by downloading Firefox 3.1b or Beta, here are the List of features:
Firefox 3.1 Beta 1 is based on the Gecko 1.9.1 rendering platform, which has been under development for the past 6 months. Gecko 1.9.1 is an incremental release on the previous version with significant changes to improve web compatibility, performance, and ease of use:
Web standards improvements in the Gecko layout engine
Added support for CSS 2.1 and CSS 3 properties
A new tab-switching shortcut that shows previews of the tab you're switching to
Improved control over the Smart Location Bar using special characters to restrict your search
Support for new web technologies such as the <video> and <audio> elements, the W3C Geolocation API, JavaScript query selectors, web worker threads, SVG transforms and offline applications. More information.
Known Issues:
This list covers some of the known problems with Firefox 3.1 Beta 1. Please read this before reporting any new bugs.
All Systems

Microsoft Windows

Mac OS X

Linux and Unix
Download it
here